Monday Musings with the Doc
Summer is here, and I noticed over the weekend that Petmedexpress.com (PME) has ramped up their anti-veterinarian advertising again.  TV commercials, Facebook ads, sponsored Tweets, all touting PME's claim to provide "the same medications as your veterinarian, at 10, 15, 20, even 50% lower prices".
PME has been a thorn in the side of veterinarians in private practice for many years.  With a multi-million dollar advertising budget at their disposal, they have convinced many pet owners that their family veterinarian is overcharging them on heartworm and flea preventives for their pet.
I can't speak for every veterinarian, but I can tell you that pricing through Cass County Animal Hospital's online store is better than PME's in almost every case.  Let's look at one particular product.  Trifexis is my go-to parasite preventive for most of my canine patients.  It provides outstanding flea control, along with reliable heartworm prevention and control of 4 common intestinal parasites.  Have a look…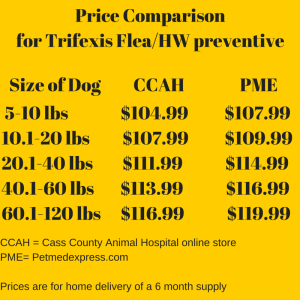 Trifexis is far from the only product where PME is more expensive.  The same is true for Heartgard Plus, Advantage Multi, and many others.  PME has free shipping for orders exceeding $49, our store ships any order over $38 free!
More importantly, when you buy from our store (or direct from any veterinarian), you can be sure the medications are genuine and legitimate.  Our store obtains medications directly from the manufacturer, with all of the maker's guarantees in place.  PME does not promise this…in fact in their 2014 Annual Report, they admit sourcing medications from suppliers other than the manufacturer…
"The majority of our sales were attributable to sales of prescription and non-prescription medications. Historically, substantially all the major pharmaceutical manufacturers have declined to sell prescription and non-prescription directly to us. In order to assure a supply of these products, we purchase medications from various secondary sources…."
–PetMed Express 2014 Annual Report
Tomorrow we will talk about why buying from your veterinarian makes good business sense…for both of you.   Thanks for stopping by Pets and People!